Welcome to Venice, the city of canals! With its stunning architecture, delicious cuisine, and unique transportation system, this enchanting city is the perfect destination for a family holiday.
Venice is also an ideal city for kids, with plenty of exciting activities and sights to see.
In this guide, we'll provide you with everything you need to know about visiting Venice with your little ones.
Visiting Venice with Kids: Your Ultimate Guide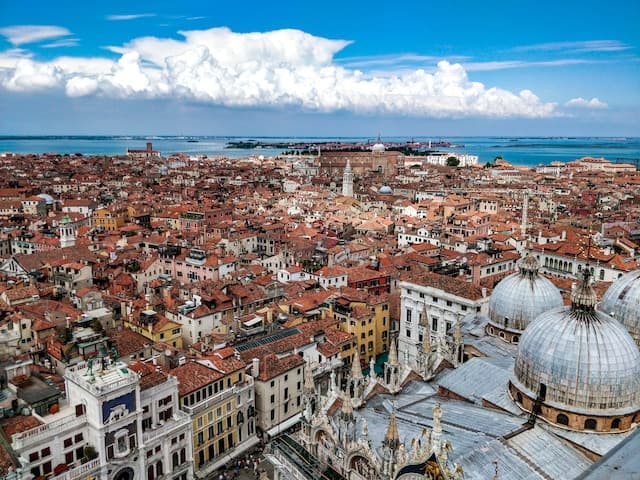 Are you planning a family vacation to Venice? You've made the right choice!
Venice is a city that has something for everyone, including kids.
From exploring the canals to visiting museums and enjoying delicious gelato, there are endless activities to keep your family entertained.
In this guide, we'll provide you with a complete guide for families visiting Venice with kids.
Why Visiting Venice with Your Kids is a Great Idea
There are many reasons why Venice is a great destination for families with kids.
For one, the city's unique transportation system - gondolas and water taxis - is sure to be a hit with kids.
Venice is also a city that is rich in history and culture, with plenty of museums and art galleries to explore.
Plus, the delicious Italian cuisine is sure to please even the pickiest of eaters.
When to Come to Venice with Family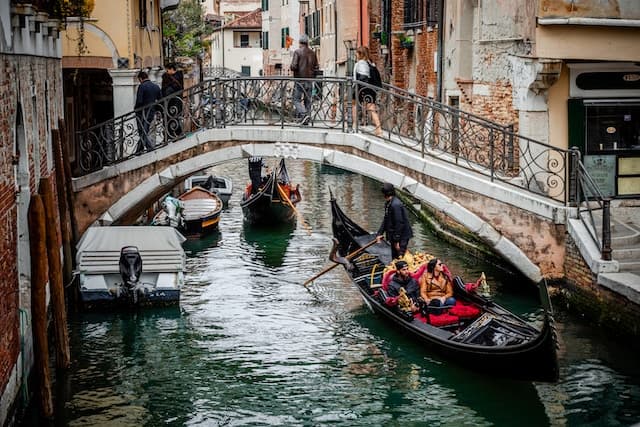 When it comes to visiting Venice with kids, it's important to consider the weather and the events happening in the city
From June to September, Venice can be quite hot and crowded, so it's best to come in the shoulder seasons of spring and fall. During these times, the weather is milder, and there are fewer tourists.
Winter can also be a great time to visit, as the city is less crowded and there are many festive events happening during the holidays.
Check out our guide to know more about weather and temperatures.
Things to Do in Venice with Kids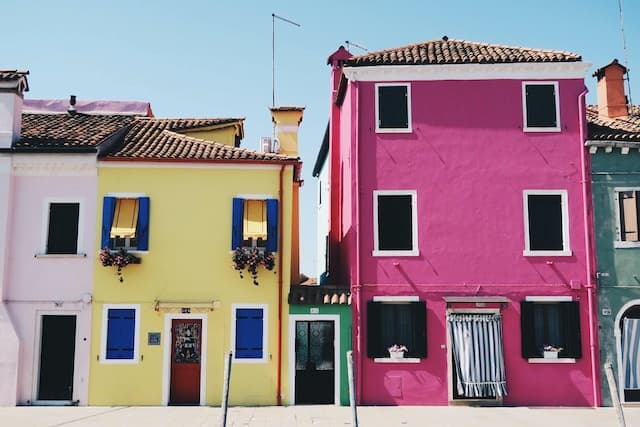 There are endless things to do in Venice with kids.
Here are some of the top activities and sights to see:
Ride a Gondola
Take a gondola ride through the canals of Venice and see the city from a different perspective.
Kids will love riding in the iconic boats and exploring the narrow waterways of Venice.
Check out our guide line and costs here!
Visit the Peggy Guggenheim Collection
The Peggy Guggenheim Collection is a modern art museum that showcases works by some of the world's most famous artists.
Kids will love seeing the colorful and abstract works of art on display. In fact it is one of the most family friendly museums in the city!
Get to know more about Guggenheim here!
Explore the Rialto Bridge and its market here
Take a stroll through the bustling Rialto Market and sample local foods.
Kids will love trying new foods and experiencing the vibrant atmosphere of the market.
Visit the Glassblowing Island of Murano
Take a boat to the island of Murano and watch artisans at work making beautiful glass creations.
Kids will love seeing the glassblowers in action and picking out souvenirs to take home.
Explore the history of the glass here!
Visit the Doge's Palace
The Doge's Palace is a stunning palace that served as the residence of the Doge of Venice.
Kids will love exploring the palace and learning about the history of Venice.
Please note that if you have a stroller with you it won't be possible to do all the itineraries. However, the museum has provided some exclusive itineraries just for families. Check here to know more: https://palazzoducale.visitmuve.it/en/educational-services/for-families/.
Take a Walk Through the Colorful Island of Burano
What's better than a tour of the most colorful island of the Venetian lagoon?
The island of Burano is known for its colorful houses and lace-making tradition. Take a stroll through the charming streets and try some of the local seafood dishes.
Take a look at our guide to the island here.
Visit the Natural History Museum
Is a museum a great idea for a family trip? Of course, if we are talking about the splendid Natural History Museum of Venice.
It is just a must-visit for families with kids. With exhibits on everything from dinosaurs to marine life, there's something for everyone to enjoy. Find out more about prices and opening hours here https://msn.visitmuve.it/en/pianifica-la-tua-visita/tickets/.
Visit the Naval History Museum
The Naval History Museum is located in the stunning Arsenale complex and is dedicated to the history of Venice's naval power.
Kids will be amazed by all the models of ships and the city's maritime past.
Take a Bike Tour
Of course you can go by bike in Venice. You just have to know where!
All you have to do is reach with your little ones the island of Venice Lido. There you could rent your bikes and enjoy the most wonderful experience!
Visit the Leonardo da Vinci Museum
The Leonardo da Vinci Museum is a fun and interactive museum that showcases the inventions and machines of the famous inventor. Kids will love seeing the models come to life and trying out some of the machines for themselves.
Climb to the Top of the Campanile di San Marco
Climb to the top of the Campanile di San Marco, a bell tower with panoramic views of the city.
Kids will love taking the elevator to the top and seeing the stunning views of Venice from above.
Visit the Biennale Gardens
The Biennale Gardens are a peaceful oasis in the heart of Venice.
Take a stroll through the gardens and enjoy the beautiful scenery, sculptures, and art installations.
Take a Vaporetto to Venice Lido Beaches
For a day of sun and sand, take a water taxi to Lido Beach.
What's better than playing in the sand and swimming in the clear waters of the Adriatic Sea?
Take a Mask-Making Workshop
Venice is famous for its Carnival masks, and kids will love making their own at a mask-making workshop.
They'll get to choose their own design and decorate their mask with feathers, glitter, and more.
Visit the San Giuliano Park
The San Giuliano Park is a large park on the mainland of Venice.
Take a picnic and spend the day exploring the park's many trails, playgrounds, and outdoor activities.
Insider Tips for Visiting Venice with Kids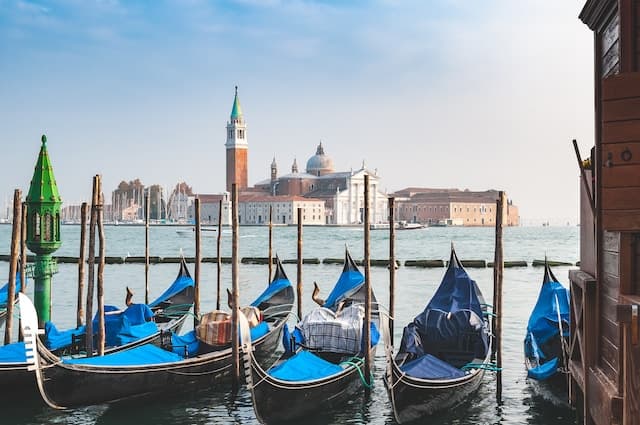 Visiting Venice with kids can be stressful, but with a little planning, it can be a fun and memorable experience for the whole family.
Here are some insider tips to make your trip stress-free:
- Book tickets for popular attractions in advance to avoid long lines.
- Mind that walking through the city's narrow streets can be difficult with a stroller.
- Pack comfortable shoes for walking, as Venice is a city best explored on foot.
- Bring sunscreen and hats for protection from the sun, especially during the summer months.
- Take breaks throughout the day to rest and recharge.
- Try local foods and gelato, as Italian cuisine is sure to please even the pickiest of eaters. Do you know the Gianduiotto?
In conclusion: would you spend your vacation in Venice with your kids?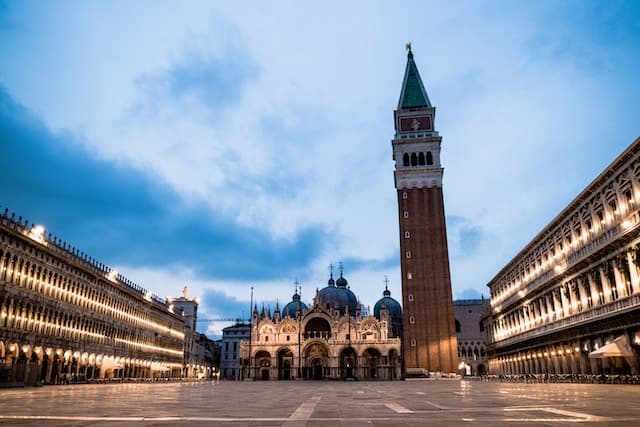 Venice is a city that is a family friendly destination.
With its unique transportation system, rich culture and history, and endless activities to keep kids entertained, there's something for everyone in this enchanting city.
Make the most of your family holiday in Venice with our insider tips and complete guide to the city of canals.
And don't forget, we've also written a complete guide to Venice for young adults - check it out for even more insider tips!