Welcome to the Peggy Guggenheim Museum in Venice, Italy, a modern art lover's paradise nestled in the heart of this enchanting city.
As you wander through its halls, you'll discover a world of artistic marvels waiting to spark your imagination.
From its stunning architecture to its awe-inspiring collection, the Venice Peggy Guggenheim Museum is a must-visit destination for any traveler.
So, let us take you on a journey through time and space, and introduce you to the wonders that await you at this incredible art haven.
Skip to your favorite part:
The Enigmatic Peggy Guggenheim and her Collection in Venice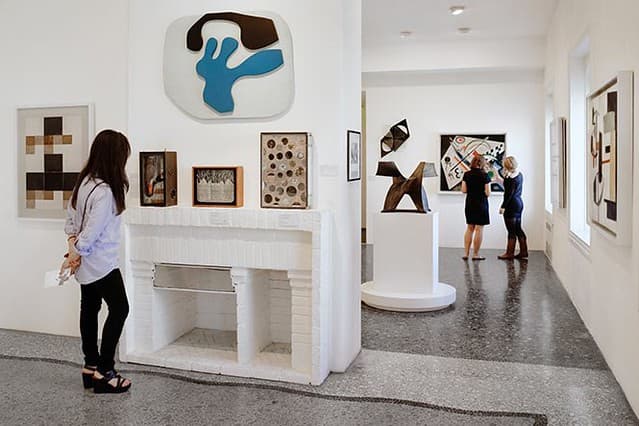 Peggy Guggenheim, born in 1898, was an American art collector, socialite, and philanthropist.
She was a pivotal figure in the modern art world, and her passion for art led her to establish one of the most important collections of 20th-century art. Her strong bond with Venice began in the late 1940s when she decided to make this magical city her home.
Peggy was born into a wealthy New York family and had the means to pursue her passion for art.
Throughout her life, she amassed an extraordinary collection of modern art, including works by Picasso, Kandinsky, and Pollock, just to name a few.
In 1980, after her death, her collection became property of the Solomon R. Guggenheim Foundation and was opened to the public, and it has since become a cherished institution in Venice.
The Majestic Ca' Venier dei Leoni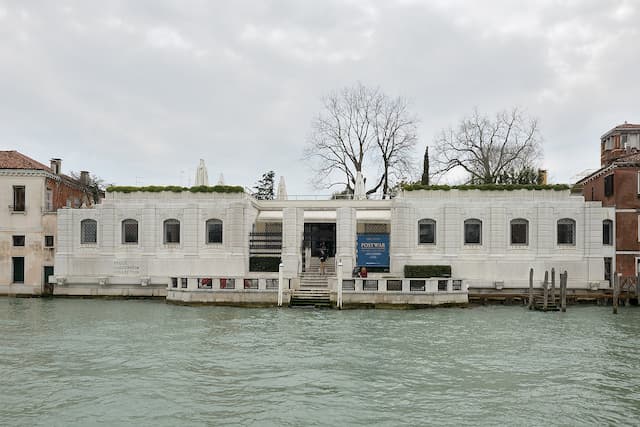 The Peggy Guggenheim Museum is housed in the historic Ca' Venier dei Leoni, a stunning 18th-century palace on the banks of the Grand Canal.
Designed by the Venetian architect Lorenzo Boschetti, the palace is a prime example of Venetian Baroque and Renaissance architecture. Its elegant façade features an intricate web of white Istrian stone, and its interiors are adorned with exquisite frescoes and stucco work.
Anyhow, despite being such an amazing project, the palace was left unfinished, giving us a peculiar spot on the Grand Canal.
The palace's unique location in the Dorsoduro district offers visitors a picturesque view of the most famous Venetian canal, making it an ideal spot to take in Venice's charm.
Here, you'll feel as if you've stepped back in time, surrounded by the beauty and history of this enchanting city.
Peggy Guggenheim Museum in Venice Italy: A Treasure Trove of Modern Art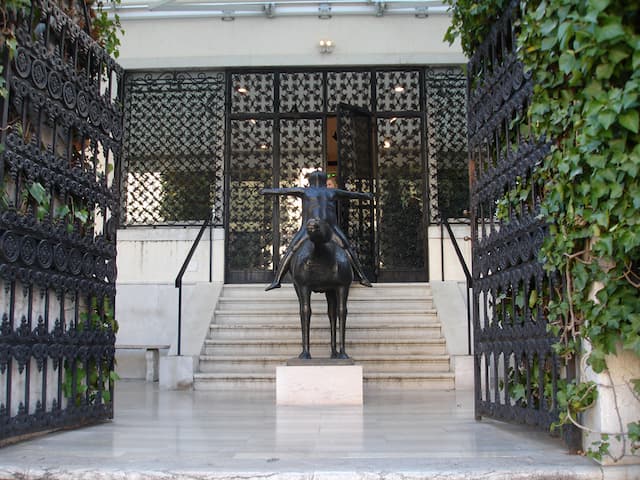 The Venice Peggy Guggenheim Museum is home to a collection of modern art, showcasing works by some of the most influential artists of the 20th century.
As you explore the museum, you'll be captivated by masterpieces from artists such as:
Pablo Picasso - "The Poet"
This vibrant painting from 1911 captures the essence of Cubism, a movement that Picasso co-founded. It features a fragmented portrait of a poet, illustrating the artist's unique approach to depicting the human form.
Wassily Kandinsky - "Landscape with Red Spots, No. 2"
This abstract masterpiece from 1913 is a prime example of Kandinsky's innovative use of color and form.
The painting's swirling shapes and vivid hues evoke a sense of movement and energy, reflecting the artist's belief that art should transcend the material world.
Jackson Pollock - "Alchemy"
Created in 1947, "Alchemy" is a quintessential example of Pollock's iconic "drip painting" technique.
The intricate web of paint drips and splatters creates a mesmerizing visual experience, showcasing the artist's groundbreaking approach to abstraction.
Plan Your Visit: Getting There, Opening Hours, and Tickets
Getting to the Peggy Guggenheim Museum in Venice is easy, as it's well-connected by public transportation.
You can take the Vaporetto (water bus) line 1 or line 2 and get off at the Accademia stop. From there, it's just a short walk to the museum.
The museum is open daily from 10 am to 6 pm, except on Tuesdays when it is closed. Tickets can be purchased online or at the museum's ticket office. Prices vary depending on the type of ticket you choose, but discounts are available for students and seniors.
For more information on ticket prices and to book online, visit the museum's official website.
Embark on a Journey of Art and History in Venice
As you leave the Peggy Guggenheim Museum in Venice, you'll be filled with a newfound appreciation for the world of modern art and the incredible city that houses it. But this is just the beginning! Venice has so much more to offer, from its winding canals to its hidden gems.
So, let us be your guide as you continue to explore this magical city and unlock its countless secrets.
Your adventure has only just begun.