You are going to tie the knot and you have selected Venice for your honeymoon. We cannot be happier than that.
As people who currently live and also work here (we are running some restaurants in the city) we could not imagine another place in the world more beautiful and romantic than our city.
We are sure that your Venice honeymoon will be just perfect.
Just follow our tips to get the best out of your stay in our dreamy city!
Is Venice good for a honeymoon?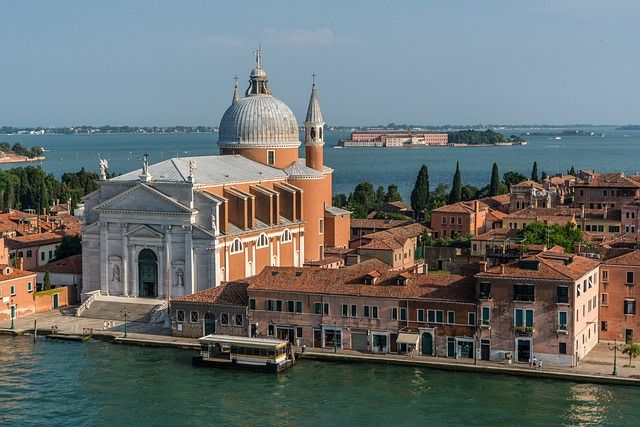 We have partially answered this question in our introduction.
Yes, totally. Venice is just a perfect city to live your honeymoon.
Whenever you come here, you will find a welcoming city, full of opportunities to enjoy relaxing moments but thrilling adventures also.
It all depends on you and on the things you like as a couple (just check our guide on this regard!).
When is the best time to come to Venice for your honeymoon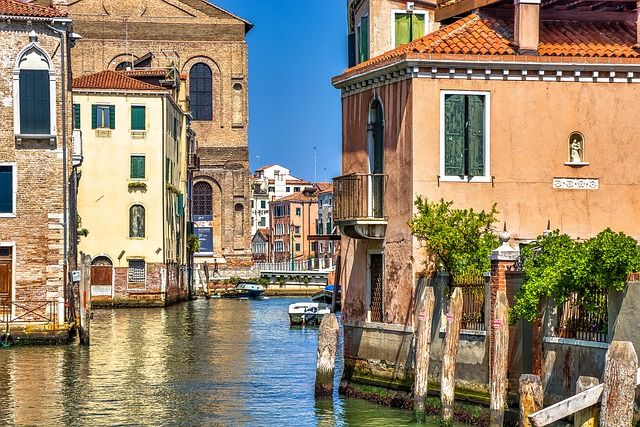 The best time to visit highly depends on your preferences, but here are a few things to consider.
If you love warm weather and outdoor activities, then summer (June to August) is the perfect time for you. During this time, the temperature in Venice is warm, and the city comes alive with outdoor festivals and street performers. You can enjoy gelato on a gondola ride, picnic in the lush parks, and take in the sunset over the water. On the other hand, however, summer in Venice may be very tough due to the hot temperatures.
If you're after a romantic and quiet escape, instead, spring (April to May) or autumn (September to October) may be a better fit. During these months, the crowds are smaller, and you'll be able to enjoy a more peaceful Venice with cooler weather.
Regardless of when you visit, however, Venice will show you its magical beauty any time of the year.
Venice honeymoon: where to stay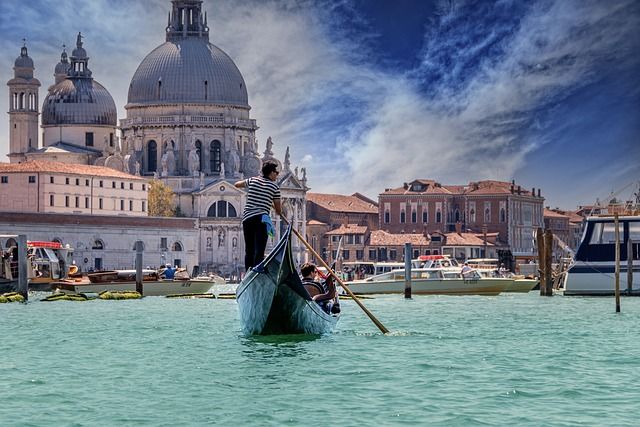 If you are organizing your Venice honeymoon, first of all you should choose the hotel where to stay.
Of course, the city has plenty of choices, but you want to know what is the best choice for you.
In fact, there are so many hotels that are hosted inside magnificent old Venetian palaces, where you can spend the most dreamy nights.
There are hotels that not only face the water, but face the water of the Grand Canal, so that you have such iconic visions anytime you look outside your window. Additionally, if you have a great budget, why don't you think to overnight on a private island? In the Venetian lagoon you can do that as well.
Of course, Venice is the perfect place also for honeymooners who want something with a more cozy and familiar atmosphere: the city is full of beautiful B&B where you can enjoy the typical Venetian daily life.
Instead of selecting a hotel next to Piazza San Marco, choose something in the Castello district or Cannaregio or Dorsoduro. Not only would you pay less for your stay, but you will enjoy a very unique atmosphere.
Follow our guide for more tips about where to stay in Venice!
10 attractions to visit during your honeymoon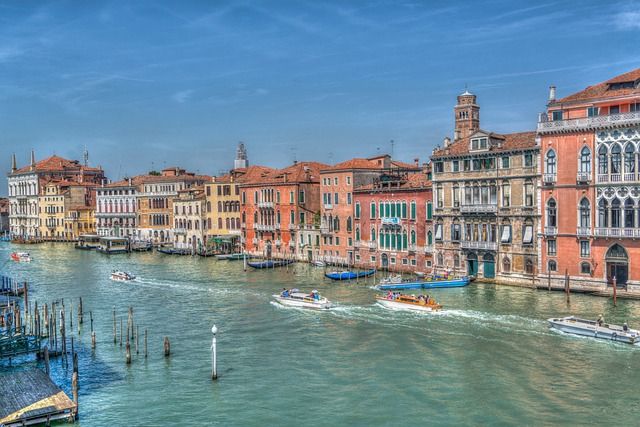 Venice is a city that offers an abundance of romantic and beautiful attractions, perfect for honeymooners.
Here are 10 must-see places to include in your itinerary:
St. Mark's Square: This stunning square is one of the most famous landmarks in Venice and is surrounded by historic buildings and museums.
The Rialto Bridge: A famous bridge that spans the Grand Canal and offers panoramic views of the city.
Doge's Palace: This magnificent palace was once the home of the rulers of Venice and is now a museum showcasing the history of the city.
The Peggy Guggenheim Collection: A museum housing a remarkable collection of modern art, including works by Dalí, Picasso, and Miró.
The Grand Canal: Take a leisurely boat ride along the Grand Canal and admire the stunning buildings and palaces that line its banks.
San Giorgio Maggiore Island: This beautiful island is home to a stunning church and a convent, and offers panoramic views of Venice.
The Scuola Grande di San Rocco: A stunning building that is home to a collection of Tintoretto's masterpieces.
The Jewish Ghetto: The first Jewish Ghetto in the world, and a fascinating neighborhood to explore for its history and cultural heritage.
Murano: This nearby island is known for its glass-blowing, and visitors can see the artisans at work in the local factories.
Burano: This island is not so far from the city center. Here you can spend a wonderful day looking at all its colored houses.
These are just a few of the many attractions that Venice has to offer, and all are sure to provide a romantic and unforgettable experience for honeymooners.
The activities and experiences to enjoy during your honeymoon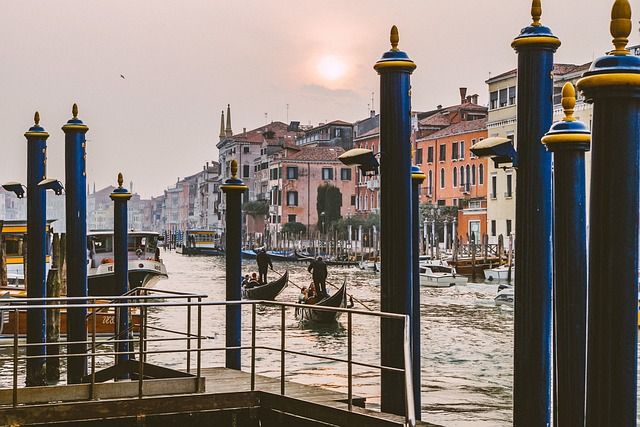 During your trip to our city, you certainly have to organize your itinerary.
We have listed here some of the activities you may want to include as honeymooners.
Take a romantic gondola ride: Glide through the canals of Venice and take in the beauty of the city's bridges, palaces, and churches. This is a must-do experience for all the honeymooners visiting Venice. Just remember to kiss your partner under the Bridge of Sighs (for there is an incredible legend here...).
Visit St. Mark's Basilica (possibly at night during a private tour): This stunning basilica is one of the most famous landmarks in Venice and boasts an incredible mix of Byzantine and Italian Renaissance styles. At night, the visit is just perfect (you have to book your guided tour in advance).
Enjoy a candlelit dinner: Venice is known for its delicious seafood and Italian cuisine, and what could be more romantic than a candlelit dinner for two in a charming local restaurant?
Explore the islands: Take a day trip to some of the nearby islands in the lagoon, such as Murano, known for its glass-blowing, or Burano, famous for its brightly colored houses. You could decide to join a group tour or take this incredible journey entirely on your own, renting a private boat.
Visit the Peggy Guggenheim Collection: For art lovers, a visit to the Peggy Guggenheim Collection is a must. The museum houses a remarkable collection of modern art, including works by Dalí, Picasso, and Miró.
Tips to organize the perfect honeymoon in Venice Italy
Organizing a honeymoon in our city can be the most exciting and memorable experience.
We have collected here a few tips to help you make the most of your trip:
Plan ahead: You probably already know how Venice can be crowded! For this reason, it's important to book accommodations, restaurants and attractions in advance to avoid disappointment.
Choose the right time of year: Consider the weather and the level of crowds. For example, summer can be warm and lively, while spring and autumn are quieter and offer cooler weather.
Get off the beaten path: While Venice is famous for its tourist hotspots, it's also worth exploring some of the less-traveled parts of the city. This can give you a chance to experience the local culture and avoid the crowds.
Take advantage of water transport: Venice is a city built on water, and it's a unique experience to travel by gondola, vaporetto (water bus), or water taxi.
Plan romantic activities: Venice is the perfect destination for a honeymoon, so take advantage of the lovely atmosphere by planning activities such as candlelit dinners, gondola rides, and picnics in the parks.
Know the customs: Venice is steeped in tradition, so it's important to be aware of local customs and etiquette, such as dress codes for churches and proper behavior on gondolas.
By following these tips, you'll be able to make the most of your honeymoon in Venice and create lasting memories with your partner.
Check out our guide to the most romantic places of Venice!