Welcome, fellow traveler, to the heart of Venice. Today, we invite you to embark on an extraordinary journey as we uncover the magic of Fondaco dei Tedeschi.
Over the past few years, this remarkable building has captured the hearts of visitors from all corners of the globe.
Its rich history, coupled with its vibrant present, makes it an unmissable destination for anyone seeking to immerse themselves in the true essence of Venice.
So, come along as we unveil the secrets and delights that await within the walls of Fondaco dei Tedeschi.
The History of Fondaco dei Tedeschi: A Tale of Trade and Culture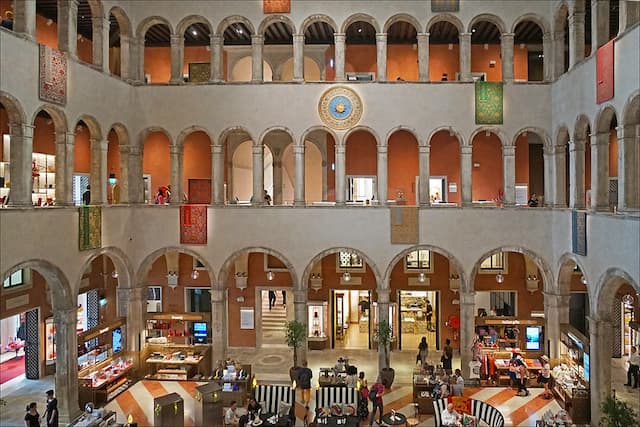 Nestled along the bustling waters of the Grand Canal, Fondaco dei Tedeschi stands as a testament to the city's vibrant past.
Originally constructed in the 13th century, this architectural masterpiece served as a trading post for German merchants, known as the "Fontego dei Tedeschi".
Throughout the centuries, the building underwent various transformations, eventually becoming a majestic hub for commerce and cultural exchange.
Despite enduring several fires and reconstructions, Fondaco dei Tedeschi has managed to preserve its enchanting Renaissance facade, showcasing the harmony between Gothic and Moorish influences.
As you step through its doors, prepare to be transported to a bygone era, where the echoes of bustling merchants and the aroma of exotic spices linger in the air.
Exploring the Treasures within Fondaco dei Tedeschi
Venture inside Fondaco dei Tedeschi, and you'll discover a world beyond your wildest imagination.
This captivating building not only houses a luxury department store that offers an unparalleled shopping experience but also conceals countless architectural wonders.
Lose yourself in the labyrinthine hallways adorned with stunning decorations and imagine the beautiful frescoes that once decorated the exteriors, each telling a story of Venice's rich artistic heritage.
Marvel at the grand staircase, an architectural marvel in its own right, which leads you to an oasis of elegance and style.
Admire the thoughtfully curated selection of high-end fashion, local craftsmanship, and internationally acclaimed brands that await you within the walls of this luxurious haven. Prepare to be mesmerized by the fusion of Venetian tradition and contemporary design that fills every corner, beckoning you to indulge in a truly unique shopping experience.
Awe-Inspiring Views from the Rooftop terrace: Reserve Your Spot Today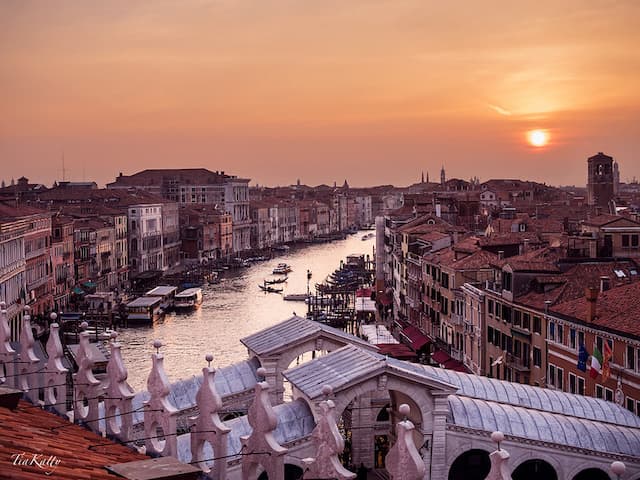 Ascend to the crown jewel of Fondaco dei Tedeschi—the rooftop terrace, in the upper floors.
As you reach the pinnacle, an unparalleled vista of Venice unfolds before your eyes. Gaze upon the iconic Grand Canal, with its gondolas gliding through the shimmering waters.
Take in the majestic beauty of Rialto bridge, standing proud against the canal. The breathtaking panorama is a feast for the senses, capturing the essence of this timeless city.
Best of all, entrance to the rooftop is free for all. However, due to its popularity, we highly recommend reserving your spot online at least 21 days before your desidered day of visit to ensure an unforgettable experience.
Visit this link to secure your place and be whisked away to the heights of bliss.
Getting There, Opening Hours, and Tickets
To reach Fondaco dei Tedeschi, you can either take a leisurely stroll along the bustling streets of Venice or opt for a vaporetto (water bus) ride to the Rialto stop.
The historic building is conveniently located just a stone's throw away.
Opening hours may vary, but generally, Fondaco dei Tedeschi welcomes visitors from 10 AM to 7.30 PM.
Admission to the department store is free, allowing you to browse its exquisite offerings at your leisure. If you wish to explore the rooftop, remember to reserve your spot online in advance to secure your visit.
As we bid farewell to Fondaco dei Tedeschi, we hope that our journey together has ignited a passion within you to explore every nook and cranny of Venice.
This captivating city is a treasure trove of history, art, and untold stories. From the enchanting canals that wind their way through its heart to the magnificent landmarks that bear witness to its glorious past, Venice beckons you to immerse yourself in its captivating embrace.
So, dear reader, embrace the spirit of adventure, pack your bags, and set forth on a voyage that will forever be etched in your memory. Let Venice and its hidden gems, like Fondaco dei Tedeschi, unravel their mysteries and weave their spell upon you.
Your journey awaits.