The Feast of Our Lady of Health in Venice represents an extraordinary occasion when faith and tradition come together in an event that involves the entire community.
These days, November 19-21, 2023, see the lagoon city transformed into a place of celebration, uniting residents and devotees in a series of rites and events culminating in the solemn mass presided over by Patriarch Francis on November 21 at 10 a.m. in the majestic Basilica della Salute.
The start of the festivities is marked by the opening of the striking votive bridge over the Grand Canal, located between Santa Maria del Giglio and San Gregorio.
The opening ceremony is set for Saturday, Nov. 18, at 12 noon and includes a blessing by the patriarch. Also on Saturday, at 10:30 a.m., the evocative pilgrimage of the oarsmen takes place.
Find out.
Evening pilgrimages and celebrations (Nov. 20-21):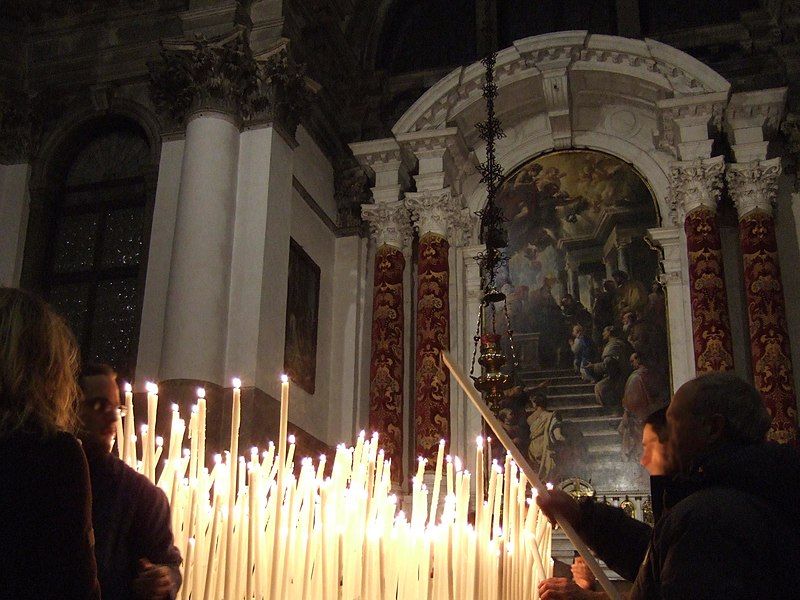 On Nov. 20, in the evening, young people leave from Campo San Maurizio at 6:30 p.m. for a pilgrimage that ends at La Salute. On the evening of Nov. 21, at 10 p.m., the last celebration is held: the Compline prayer with the evocative singing of the antiphon "Salve Regina."
Traditional Fair: Secular and joyful atmosphere (Nov. 19-21):
Alongside the religious aspect, there is a secular and festive atmosphere thanks to the traditional fair that animates Venice from November 19 to 21. In Campo della Salute and San Gregorio, the usual stalls for the sale of candles are set up, while along Rio Terà dei Catecumeni there are those dedicated to sweets, balloons and various products.
The Feast of Our Lady of Health in Venice 2023
During these three days of celebrations, the city comes alive with pilgrimages, religious ceremonies and festive stalls, creating a unique atmosphere that captures the hearts of everyone who attends.
The east of Our Lady of Health in Venice is a perfect blend of the sacred and the profane, where spirituality is intertwined with the vibrancy of a traditional fair, celebrating the cultural and religious richness of this fascinating lagoon city.
Conclusion:
In conclusion, the feast of Our Lady of Health in Venice is, without a doubt, an extraordinary experience that unites the community in the celebration of faith and centuries-old traditions.
The solemn mass and the votive bridge over the Grand Canal represent moments of deep spirituality, while the traditional fair adds a cheerful and secular touch to the event.