One of the most remarkable Venetian women is certainly Caterina Cornaro.
She was a Venetian noblewoman, born in 1454, who is renowned as the last queen of Cyprus.
She is such an important personality of the Venetian history that we could help but write an entire article dedicated to her fascinating life, full of twists and turns.
In this article, we will take a closer look at her life, from her reign as the Queen of Cyprus to her life in Asolo, and her enduring legacy.
Who is Caterina Cornaro, the last monarch of Cyprus

Caterina Cornaro (also called Caterina Corner, or Catherine Cornaro in English) was the daughter of Marco Cornaro and Fiorenza Crispo.
She was destined to a marriage by proxy to King James II of Cyprus (Giacomo II Lusignano).
The future queen was taken to the port of San Nicolò aboard the Bucintoro, accompanied by Doge Nicolò Tron and a multitude of nobles and commoners. On September 26, in the monastery of San Nicolò del Lido, she made her will; in it she named her brother Giorgio her principal heir in the event of her childless death.
She would married James II when she was 18 in a formal ceremony that took place in St. Nicholas Cathedral in Famagusta. Shortly thereafter, she was crowned Queen of Cyprus, Jerusalem and Armenia in Nicosia.
However, her marriage did not last long as her husband died the following year, leaving her as the queen regent for their infant son, James III.
During her reign, Caterina faced many challenges, including the death of her son, threats from the Ottoman Empire and rebellions by her own subjects.
Despite these challenges, she managed to hold onto the throne for more than a decade, until 1489, when she was forced to abdicate and cede the island to Venice.
Caterina Cornaro exiled to Asolo (Treviso)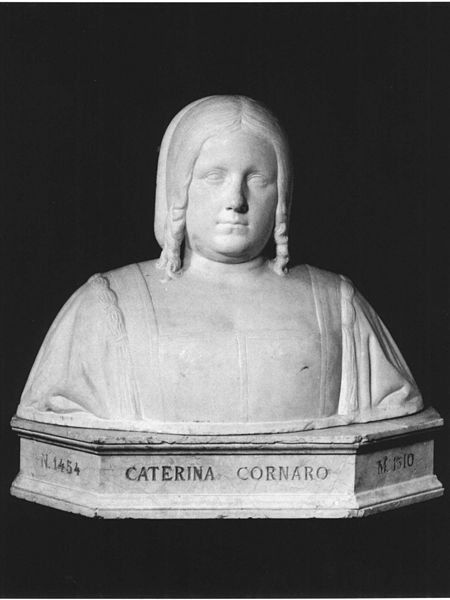 After her abdication, Caterina was granted the title of domani Aceli (Lady of Asolo) retaining even in official acts the title and rank of queen.
On the territory of Asolo, Caterina Cornaro had the same powers as the doge. The only limitations were that she could not make her subjects suffer any burden or anguish and she could not accommodate anyone who was not pleasing to the doge.
Caterina lived there for the rest of her life, becoming a patron of the arts and culture. She called artists and men of letters to her court, including Giorgione, Lorenzo Lotto, and Pietro Bembo, who set Gli Asolani here.
In 1509, as the imperial troops of Maximilian I of Habsburg advanced, she took refuge in Venice. Returning to her castle, she fled again when German troops reappeared at the gates of Altivole.
She died in Venice and she was buried in San Salvador church.
The Legacy of the Queen of Cyprus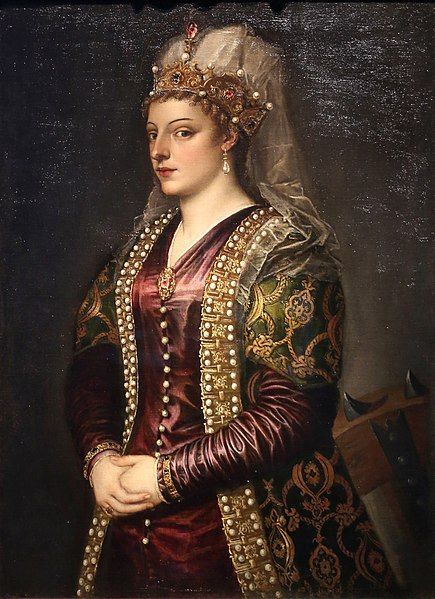 Caterina Cornaro is remembered as a strong and intelligent woman who managed to rule Cyprus during a difficult time in its history.
Her reign was marked by political and social unrest, but, despite many challenges, she managed to hold onto the throne.
Caterina's life in Asolo was marked by her patronage of the arts and culture. She was a supporter of artists and writers and she also commissioned many works of art, including paintings and sculptures, which can still be seen in Asolo today.
Caterina Cornaro's legacy is one of strength, intelligence, and resilience. She is remembered as a woman who faced many challenges in her life but managed to overcome them with grace and determination.
Her life and reign continue to inspire people today, and she is considered one of the most important figures in Venetian history.