In a few weeks, A Haunting in Venice will be officially released and we honestly can't why. However, why are we talking about this movie? Well, it's because Venice will be an absolute main character!
Let's see why!
A Haunting in Venice, discovering more about the upcoming movie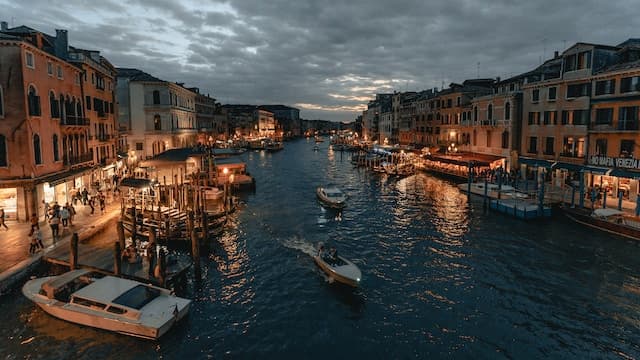 A Haunting in Venice is directed by the legendary Kenneth Branagh, who has brought to life some of the most iconic characters in literature and film.
This supernatural mystery thriller is based on the classic Agatha Christie novel, Hallowe'en Party, and serves as a sequel to two other Branagh-helmed films, Murder on the Orient Express (2017) and Death on the Nile (2022).
In A Haunting in Venice, Branagh reprises his role as the brilliant detective Hercule Poirot, who finds himself embroiled in a spine-tingling case set amidst the erie canals and labyrinthine streets of our city.
Who is going to be in the cast
But the talented cast assembled for this film is not to be overlooked.
Alongside Branagh, we have the likes of Kyle Allen, Camille Cottin, Jamie Dornan, Tina Fey, Jude Hill, Ali Khan, Emma Laird, Kelly Reilly, Riccardo Scamarcio, and Michelle Yeoh, each bringing their own unique energy and expertise to the project.
The Plot
Even though the original novel by Agatha Christie is set among the English countryside, as we already know, A Haunting in Venice is set in our beautiful city.
The movie is set in post-World War II Venice, specifically on the eve of All Saints' Day.
Against this eerie backdrop, a terrible crime is committed, and the retired detective Hercule Poirot (played by Kenneth Branagh) is called upon to solve the mystery.
Reluctantly, Poirot takes part in a séance held in a haunted palace. However, when one of the guests is found dead, the detective must uncover the killer in a world full of shadows and secrets.
According to the director, the genesis of the project was the desire to create a sense of unease and tension in viewers. In the movie, the renowned detective Hercule Poirot faces his inner demons as he grapples with being trapped in a haunted palace during a terrible storm. Branagh aims to entertain, captivate, and terrify audiences with this gripping tale.
We can attest to the allure of Venice's winding waterways, Gothic architecture, and rich history. And with this film, Branagh promises to transport us to a Venice that is both beautiful and terrifying.
So mark your calendars for September 15, 2023, when A Haunting in Venice will be released in the United States by 20th Century Studios.
It's a cinematic experience that should not be missed!
Continue your discovery of the most famous movies set in our city!